Copyright © 2018-2022 William King. All Rights Reserved.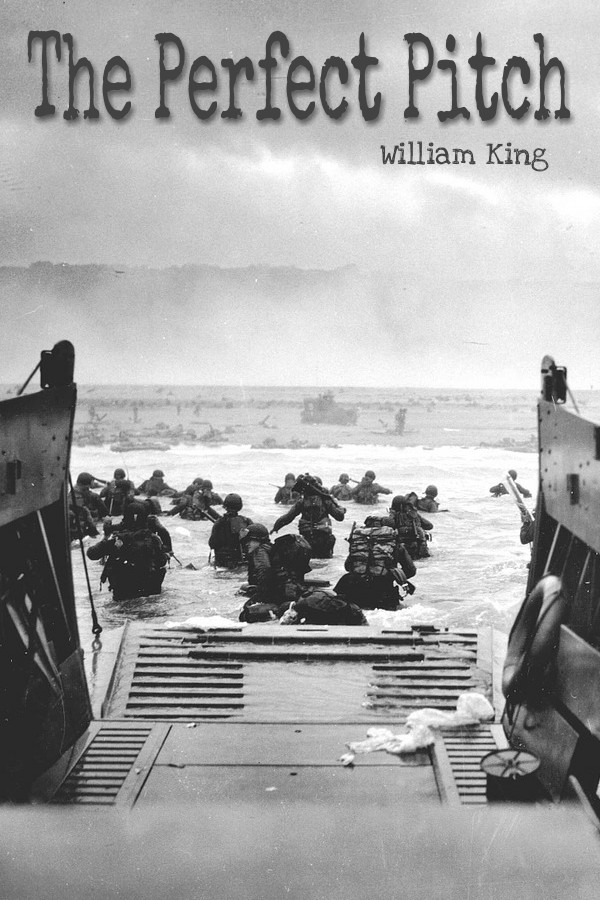 The Perfect Pitch
by William King.

Dark clouds scuttled across a grey sky that morning, like an ominous premonition of what was to come. No one spoke as they clambered down the side of the ship and into the landing craft, the only sound was the churning of the engine, the rest he blotted out. The boat rolled and bounced as it turned towards the beach. Private Williams' stomach churned, not because of the sea, but with fear and apprehension. Even a glance at his buddy Jake could not dispel the knot in the pit of his belly.
He followed the others down the ramp and splashed into the cold water that was up to their waist. Jake was beside him as they struggled towards the beach, his rifle held high over his head. It was as if someone had turned down the volume, everything seemed quiet, but the bullets zipping all around were real enough. The bodies floating in the water and lying on the sand in front of him were a vision from Hell.

Matt Williams was never a great believer when the family listened to the preacher on Sundays, but for the first time in his life he prayed to almighty God to save him. He stumbled, crouching over, up the beach towards the dunes. There was nowhere else to go. The roar of gun fire, shouting, and screams, were everywhere. The zizz of a bullet whizzed past his face. He moved as if in a trance, adrenalin coursed through his veins. Just one goal – the dunes.
He collapsed on the ground, curled up against the meagre protection from the little ridge. He wanted to make a hole and crawl into it. His clothes were soaked, from the sea and from his own urine.
There was a thud beside him, Jake was there in the sand. His buddy looked over at a ghost whose face was drained white. A tiny smile formed on his lips as he reached out a hand. Matt couldn't feel anything but fear, he silently implored his mom to come and get him. When he realised that would never happen, he prayed if he was hit that he would die instantly.
Jake's grip tried to calm his friend's trembling body. He noticed the blood on his cheek, Matt was not even aware he'd been hit.

"You guys alright?" Sergeant Drewer with eight others from their platoon had joined them. They were all hugging that little ridge for protection.
Jake nodded to the Sergeant. Looking back down the beach it was littered with obstacles and bodies. He saw one landing craft take a direct hit.
"We've got to follow the rangers up the cliffs, GET IT TOGETHER!" The Sergeant barked out the command. Jake and Matt turned to look up ahead.
"Come on mate, we can make it."
There was no choice, Matt shifted himself off the sand following the others up the gully, which at least offered some protection. About halfway up they stopped. Looking back over the beach Matt got the impression the invasion had been abandoned, there were no more troops coming ashore. Further along the beach was a lot of smoke. Whatever was burning it was at least giving those poor sods some cover.
"MOVE YOUR FUCKING ASSES WE'RE NOT HERE FOR A PICNIC!"
One after the other they made the cliff top, scrambling over on their bellies into the tall grass. To their right the ominous concrete walls of a German pillbox protruded from the cliff.
"Arnold, Williams, Slater, Davis, Berman get around the back. The rest of you with me. We're taking this mother fucker. NOW MOVE IT!"
Matt and Jake crawled towards the gun emplacement, one behind the other, following Slater, Davis and Berman. Davis had been pitcher on his high school team and for some unknown reason he decided to break cover.

Matt went to stand up and pull him back down, but Jake grabbed him. Davis pulled the pin and threw the grenade, it must have been sixty feet. The crack, crack, crack, of machine gun fire spat out.

Who knows what makes a hero? Davis fell backwards, Matt's eyes followed the grenade. It hit the outside edge of the angled opening and must have dropped down just inside. The explosion was muffled by the thick concrete. It was the perfect pitch. Davis stared unblinking at the rolling clouds, a tiny stream of blood trickling from the side of his mouth. Jake crawled over, but there wasn't anything to do. He was dead, shot three times, in the chest and neck.
They moved forward quickly now. Standing up and bent over, running around to the back of the pillbox. They came in behind Drewer and the rest. There were several shots. As the smoke cleared Matt looked away. Coming back out he moved over to the wall, stretched out his arm to support himself, and vomited.
"Who the hell told Davis to throw a grenade?"
Matt, Jake, Slater and Berman didn't answer. Sergeant Drewer sat down and took out a pack of cigarettes. He didn't want an answer, it was an insane thing to do, but probably saved their lives.
"You look like shit." Jake put an arm around Matt's shoulders.
"Thanks." He tried a tired sort of smile, but couldn't quite get his lips to move.
"Least we made it."
"Yeah."
There were nine of them including Sergeant Drewer, which was less than half the platoon.
"What now Sarg?"

Arnie Slater was the little guy from New Jersey, the wise guy, he was always first with the questions. Berman was from Brooklyn, Ruben, he was Jewish. Matt and Jake were basically country bumpkins, least ways according to Arnie and Ruben. Poor old Brian Davis was a good kid from a small town, Milton, Delaware. He always told everyone it was the most beautiful town in America.
Drewer gave Slater one of his crooked smiles and took a long drag on his cigarette, blowing the smoke out in rings.
"One thing's for sure. We ain't nowhere near where we're supposed to be. It's a fucking mess."
"Where are we s'posed to be then Sarg?"
"Fuck off Slater, and stop bugging me!"
"Maybe we should find the lieutenant?"
Briggs was a big guy, built like a tank, he was probably being serious with that suggestion, but it only served to wind up Drewer.
"Look mountain man, you see these stripes?" He was poking at the three bands on his uniform. "Because they fucking mean I make the decisions here, GOT IT?"
Everybody was quiet, we all knew how Drewer was, a lot of barking, but he looked after his squad.
"The lieutenant copped it on the beach, I saw him get hit. Okay, let's get moving!"
About four hundred yards across the dunes was a row of houses and probably a road. Looking around they seemed to be on their own here.

"Over there." Drewer indicated the houses. "Now be fucking careful. I don't want no more dead heroes."
The tall grass between them and those houses could hide anything. Four hundred yards suddenly seemed like a hell of a long way. But four hundred yards was no distance at all compared to the days, weeks, months, that lay ahead.
The invasion hadn't been called off and they'd played their part, started that long road to freedom. Perhaps they were amongst the lucky ones? Over nine thousand Americans who landed with them never left. They lie in one hundred and seventy-two acres that over look those beaches. Endless white crosses or the Star of David. Neat rows forming lines on an impeccably manicured lawn, a powerful and humbling final resting place – lest we forget!

~ ~ ~ ~ ~
The End.